Une série de webinaires Fiware4Water, projet coordonné par l'OiEau
Lancé en 2019 dans le cadre du programme européen pour la recherche et l'innovation H2020, et coordonné par l'OiEau, Fiware4Water (FIWARE for the Next Generation Internet Services for the WATER sector) a pour objectif de démontrer la faisabilité de lier le domaine de l'eau à la plateforme informatique FIWARE, grâce au développement d'interfaces et d'outils dans l'intérêt de tous les utilisateurs finaux du secteur de l'eau.
Suite à la webconférence sur les solutions digitales dans le secteur de l'eau pour soutenir les politiques européennes sur l'eau, qui s'est tenue le 9 décembre dernier lors de la 19ème conférence Euro-RIOB, Fiware4Water organise une série de workshops pour vous faire découvrir toutes les innovations développées grâce à l'initiative.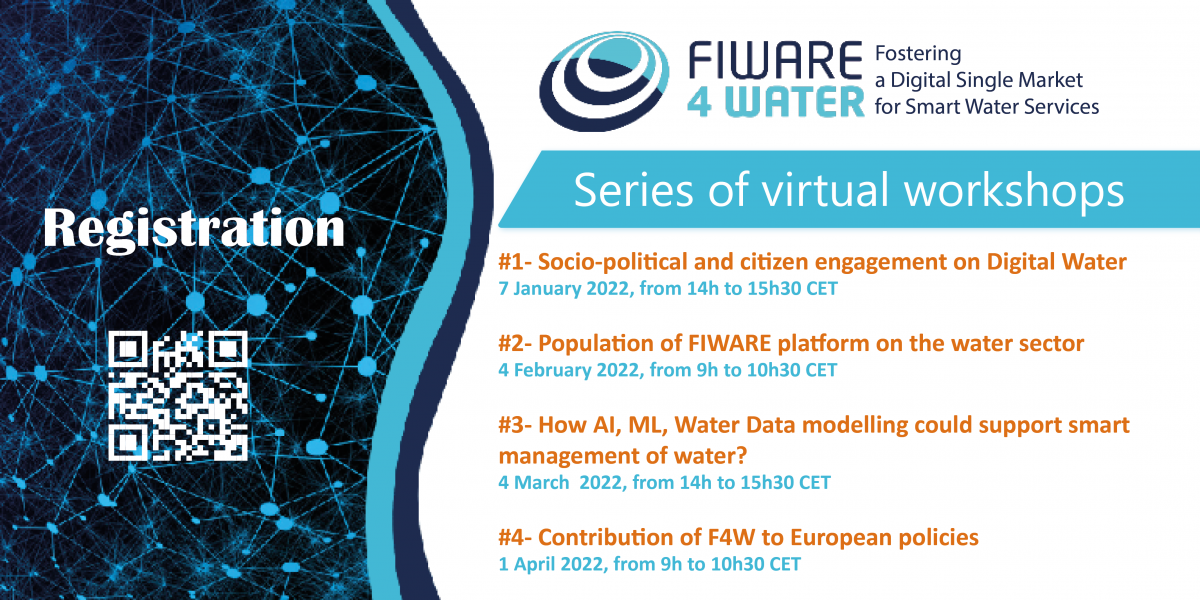 Le premier workshop aura lieu le 7 janvier, de 14h à 15h30, et se focalisera sur la dimension socio-politique et l'engagement citoyen dans le domaine de l'Eau Digitale. Les débats se baseront sur la définition du terme « engagement citoyen », les inconvénients d'une telle approche et comment l'engagement citoyen peut être employé à une large échelle, comme celle du bassin versant.
A noter dans vos agendas : second workshop le 4 février 2022 !